Instructions for installing Remote Support software
Over the years we have used a number of applications for providing remote support to clients. As of writing this (April 2019) TeamViewer is the software that we use.
The steps that need to be followed on the host (your) computer are:
Get the following three files on to the host computer.

Rename the host

It's a good idea to change the host Computer name to something that we will recognise before the running the TeamViewer MSI package (Control Panel > System and Security > System > Advanced system settings > Computer Name > Change…). A name that reflects the site would be useful.

The Computer description is NOT the Computer Name.

Uninstall any existing TeamViewer installation if it is older than v14.1.

Beware if you are trying to

Update Teamviewer

over the top of an existing TeamViewer installation!

It is safest to uninstall TeamViewer before installing the new TeamViewer Host.

Execute the batch file

As Administrator

- refer to method 3 of

9 ways to run programs as administrator in Windows

.

You must execute the batch file

As Administrator

. It will not work unless you do.

It is not enough to be logged in to a Windows Administrator account and run the batch file 'normally'.
The Teamviewer Customised Host window should appear on the host screen: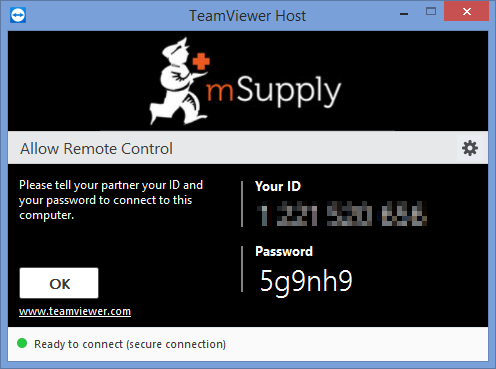 Advise Sustainable Solutions once you see this and they will then be able to confirm that remote access is operational.