21.02. mSupply client / server installation part 2
Install associated server application software
Install Dropbox
Sustainable Solutions recommends using Dropbox to assist with transferring installation files to the server, and as a means of moving mSupply secondary backups off site.
Contact Sustainable Solutions to organise a DropBox account for the server and for instructions on setting it up on the server.
Do this step first so that you can use the Dropbox folder to transfer software and files to the server.
Install Remote Support Software
Instructions for installing Remote Support software
Over the years we have used a number of applications for providing remote support to clients. As of writing this (April 2019) TeamViewer is the software that we use.
The steps that need to be followed on the host (your) computer are:
Get the following three files on to the host computer.

TeamViewer_Host.msi

TeamViewer_Settings.reg

Install in New - RUN AS ADMIN.bat

(or other if provided by Sustainable Solutions)

Rename the host

It's a good idea to change the host

Computer Name

to something that we will recognise before the running the TeamViewer MSI package (Control Panel > System and Security > System > Advanced system settings > Computer Name > Change…). A name that reflects the site and / or user would be useful.

The Computer description is NOT the Computer Name.

Uninstall any existing TeamViewer installation if it is older than v14.1.

Public instruction from TeamViewer

states that older versions of TeamViewer must be uninstalled before installing this version. If possible, please do this. However, it has been found that the TeamViewer Host package can be successfully installed on top of any version of TeamViewer. It may result with multiple TeamViewer entries in the installed programs list, which is messy, and may result in long-term issues. You have been warned.

It is safest to uninstall TeamViewer before installing the new TeamViewer Host.

Execute the batch file

As Administrator

- refer to method 3 of

9 ways to run programs as administrator in Windows

.

You must execute the batch file

As Administrator

. It will not work unless you do.

It is not enough to be logged in to a Windows Administrator account and run the batch file 'normally'.
The Teamviewer Customised Host window should appear on the host screen: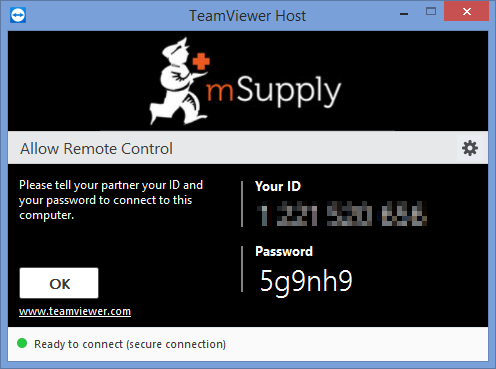 If the above window does not appear, the full installation has not completed. It definitely helps to run the batch file with a reasonable internet connection. If the internet connection is not good enough, then some or all of the actions in the batch file will not complete. If that happens, please re-run the batch file (as Admin) when the internet connection is better.
Advise Sustainable Solutions once you see this and they will then be able to confirm that remote access is operational.
Install UPS hardware and software
If its not already done, install the UPS hardware and software, refer UPS above.
Install Anti-virus software
Anti-virus can be a hotly contended issue. This web page is pretty convincing: What's the Best Antivirus for Windows 10? (Is Windows Defender Good Enough?)
Conclusion:
If the OS is Win8 or later, Windows Defender is probably good enough for anti-virus, and better than much of the competition.

Once configured, the server should not be vulnerable to exploit programs as these are usually downloaded and triggered by human activity! However, to be safe, it is recommended to install an Anti-exploit program such as

Malwarebytes

. The website suggests that Malwarebytes is not free, but as at the time of writing this (May 2018), Malwarebytes successfully reverts to a free version after the 14 days trial. This means that it has to be manually run.
Install another Web browser
Install LibreOffice
mSupply can produce reports in Microsoft Excel format. Client machines will need to have software to open these reports. Occasionally there will be need to run and open these reports while logged in to the Server. If you do not have Microsoft Excel installed on the server, a good option is:
It's a good idea to stick this in to the Dropbox
Install TurnedOnTimesView
As part of troubleshooting, it is valuable to be able to analyse when the server has shut down ungracefully.
TurnedOnTimesView

is a simple tool that analyses the event log of Windows operating system, and detects the time ranges that your computer was turned on and whether the last shutdown was graceful or not.

Installation instructions are on the website, but is very straightforward:

Copy the TurnedOnTimesView.exe file to the Desktop

Pin it to the Taskbar.
It's a good idea to stick this in to the following folder in Dropbox:
Install Logoff and Lock utilities
It is too easy for support workers accessing the server remotely to accidentally shutdown the server. Therefore, two Windows shortcuts have been created to allow support workers to easily logoff or lock their windows session without having to go through the usual Windows procedure:
Lock computer

Logoff computer
It's a good idea to stick this in to the following folder in Dropbox:
The Yellow Lock computer utility needs to be copied to the Admin desktop and then pinned to the task bar.

The Green Logoff computer utility needs to be copied to the C:\Users\Public\Desktop folder. This will place the shortcut on the desktop of each normal user. Users of each normal user account will need to pin this shortcut from the desktop to the taskbar. Don't pin it to the taskbar of the Admin user account. We try to keep the Admin account open so as to keep Dropbox working.
The C:\Users\Public\Desktop folder is normally a hidden folder. You will likely need to make it visible).
Configure Interactive Services Detection (ISDS)
Interactive Services Detection is a means by which mSupply Support can interact with the mSupply Service to investigate issues.
From What is Interactive Services Detection and Why is it Blinking at Me?:
Services and system processes run in session 0. Prior to Vista, the console (first logged on user's desktop) ran in session 0 as well. Vista introduced session 0 isolation to protect services from elevation of privilege exploits from the console desktop. Now, the first user's desktop runs in session 1.
Interactive Services Detection (the blinking button on the taskbar) is a mitigation for legacy applications that detects if a service is trying to interact with the desktop. This is handled by the Interactive Services Detection (UI0Detect) service.
Interactive services since Windows 10 V1803 and Server 2019
Microsoft has removed the Interactive Services Detection Service on Windows 10 Version 1803 and Server 2019.
We recommend FireDaemon Zero (Session 0 Viewer) as an alternative means of interacting with the mSupply Service. Refer to this deployment matrix. The utilities are here: Firedaemon
Procedure:
Make sure the OS is fully updated.

Install Firedaemon Zeroinput to restore Keyboard/Mouse control. Right click on the FDUI0Input.inf (in the Firedaemon utilities, above) and select Install.

RESTART THE MACHINE

The

FDUI0Input.inf

driver will not take effect until the machine is restarted.

Double click on the red Firedaemon Zero icon on the task bar to go to Session 0 (Interactive services):

In Session 0 Double-click the Firedaemon Zero icon to get back. Or it will automatically go back in 30 seconds of inactivity.

If mouse and keyboard are working on Session 0 you can turn off Firedaemon Zero 'Quirk' pref to exit session zero after 30 seconds. Right-click on the red icon and click on Options. Then on "Quirk" just uncheck the option. Done.\\

If you turn off Firedaemon Zero 'Quirk' pref to exit session zero after 30 seconds before installing Keyboard/Mouse driver, plan for a physical trip to site to fix it! )
---