Asset management for East Timor
This guide is specifically for East Timor (SAMES). If you are using a general version of mSupply you will not see the same functionality described here.
Basic principles
This module has been made to handle different kinds of assets. An asset is something owned by SAMES that you want to keep track of. Specifically, SAMES will use the module to track oxygen cylinders. Each cylinder has a serial number, as with most assets. What is unique about oxygen cylinders is that
You supply them to customers, and return them to the supplier, although they are still owned by SAMES

There is a financial transaction associated with the supply
Setup
Setting up Service items
Certain movements of oxygen cyclinders will automatically create an invoice for the Oxygen supplied during that movment
| Movement | Invoice created |
| --- | --- |
| Supplier to SAMES | Supplier invoice |
| SAMES to Supplier | none |
| SAMES to Customer | Customer invoice |
| Customer to SAMES | None |
When assets
Setting up types, sizes, conditions
Having shown the asset list, click Setup You'll be shown this window
Here you can set up types, sizes and conditions by choosing these options from the show drop-down list at the top of the window. Sustainable Solutions will do this for you on installation. Don't change any settings without contacting us.
Set up permissions to use the asset module
There are 3 user permissions associated with the asset module: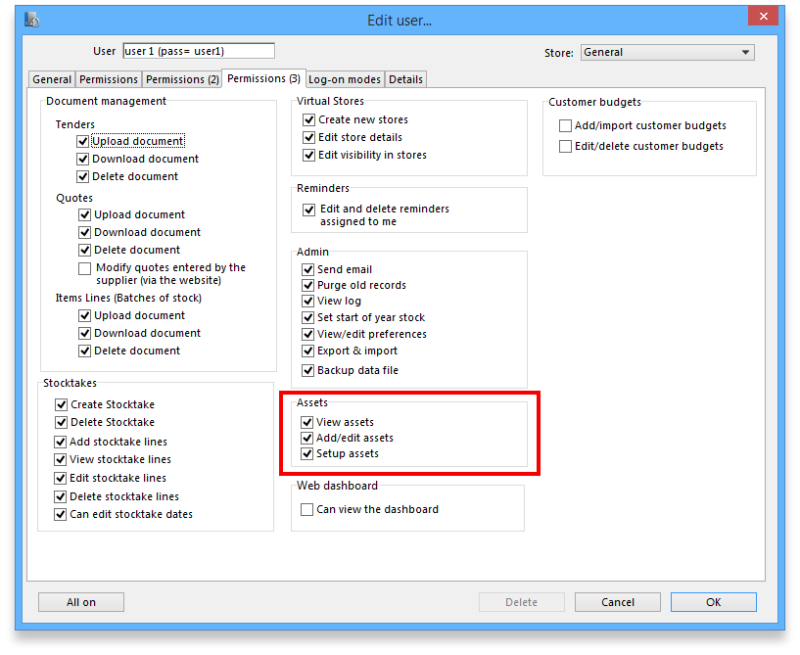 User permissions are accessed from the File > Edit users menu item. Note that Setup assets permissions should only be give to one person, as wrong use will create problems.
Creating assets
Each time you purchase a new asset, you need to create it in mSupply. The quickest way is usually to select a similar asset, highlight it, then click Duplicate
You will still need to fill in the serial number, as this will be unique for the new asset.
Otherwise you can click New in the toolbar and you'll be shown this window
Fill in the name and serial number, and choose from the list for condition, size and status.
Working with the asset list
Finding items in the list
You can click on a column header to sort by that column

You can use the "Type" and "Status" drop-down lists to choose just a certain type or status of asset to be shown.

You can enter a value in the search field (customer name or asset serial number) to find the asset(s) you want.

Entering a star in the search field will find all cylinders at SAMES.
Transferring oxygen cylinders
Transferring can happen in four directions
You supply to a customer

Customer returns them to you

SAMES returns empty cylinders to a supplier

The supplier supplies SAMES with filled cylinders
Let's take the example of sending cylinders to a customer.
enter "*" in the search field to find all the cyclinders at SAMES.

Click the checkbox beside the cylinders you wish to send to the customer.

Click Send/Receive to show this window:

Click the Customer : Send radio button.

Enter the start of the customer name and press <tab> then choose the customer from the list if there is more than one to choose from.

The create invoice checkbox will be checked, and you should leave it checked unless there is a reason not to create an invoice for this shipment.

When you click OK the transfer will be made and an invoice will be created. You can view the invoice by choosing Customers > Show Invoices
The invoice that is made will have lines that are purple, showing that they're service lines, and don't involve stock.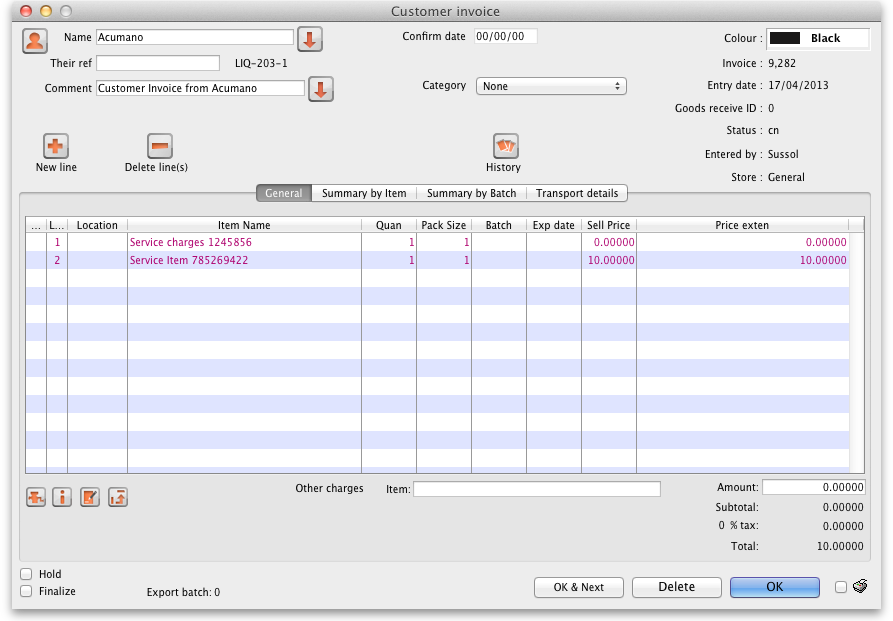 The Log
Every tansfer of an asset creates a log entry- you can see the log for an item by double-clicking on it and then click the Log tab: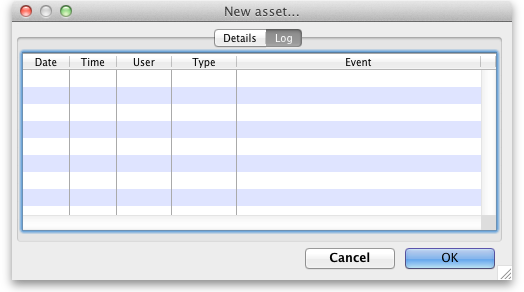 Reporting
Click the Report button in the list toolbar will show the report options window:
A report is produced that gives a summary of where cylinders are, and how many at SAMES are full or empty.

If you wish to get a list of assets at a particular customer, in SAMES, or with a supplier you can do so using the search function of the list window. If you need to report on the value of assets sent and received, this can be done using the normal transaction reports.
Previous: The mSupply eLMIS interface Next: Field Descriptions