Using abbreviations
Importing abbreviations...
Printing a list
Item Default Directions
Dispensary mode
Activating Dispensary Mode
What is a "name"?
What changes in Dispensary mode?
Different menus
Different windows
Prescription entry
How to look up a patient on file
Editing patient details
Entering the prescriber
Entering prescribed items
Patient Events
Entering directions
Default directions
Printing Labels
Reprinting labels
Entering a new patient
Printing multiple labels
What if there is not sufficient stock of one batch?
View history
Duplicating a prescription
Repeats
Merging patients while dispensing
Viewing patient details
Patient history tab
Repeat Dispensing
OK
Process repeats
Printing receipts
Notes display
Patient medication records
Introduction
A Patient Medication Record (PMR) is a way of recording all the medications a person is using, whether or not they were dispensed by you. The record contains useful information for the patient such as
The dosage in a clear easy-to-understand format.

An (optional) picture of the dose form (tablet, capsule, etc)

The medication's purpose.

Common instructions for taking/using the medicine, which may be customised for each patient
Setting up items
Before adding items it is good to set up the standard purpose, instructions and item photo for common items at least. Once set up, you can add these to a particular patient's PMR with just the click of a button.
Find the item you are interested in and go to the dispensing tab

Enter purpose and instructions. Both these fields can take as much text as you wish to enter.

Add a photo by either dragging a photo from another application or pasting a photo from the clipboard.
mSupply will automatically resize large photos when you add them- there is no need to resize photos yourself first.
Adding items to a Patient's PMR
There are 2 ways of adding items to a PMR
From the patient history tab:

Highlight the items from the patient's history you wish to add, then click the Add to PMR button.

The record will be shown on the "PMR" tab if you switch to it.

Note that on the PMR tab you still have to double-click on the added record and fill in the dose, instructions etc.

From the Patient details PMR tab

Here you can add any item that is in the mSupply catalogue.

For example, a patient might be regularly taking paracetamol or aspirin that they buy themselves. You can add such items here.

To add an item, click the Add item button. You will be shown a new window:

Item name: type the start of the item name and press <tab>, then select from the list

Dosage: Enter the number of tablets/drops/whatever to be taken/administered morning, noon, evening and bedtime.

Purpose: If the item has a purpose entered, click the copy button to copy it to the right-hand box. Here you can edit the details if you want to.

Instructions: If the item has instructions entered, click the copy button to copy them to the right-hand box. Again, you can edit the details if you want to.

Click OK when you're done, or cancel if you decide not to add a record.
Editing a PMR record: Double-click the entry you wish to edit, change details, and click OK to save the changes and close the window. Deleting a PMR: Highlight the record(s) you wish to delete, then click the delete button. (Do be careful- it's not reversible!)
Printing
Setting up printing preferences
When a PMR is printed, it has a header and footer. These are set up by choosing File > Preferences and then clicking the Patient Medication tab.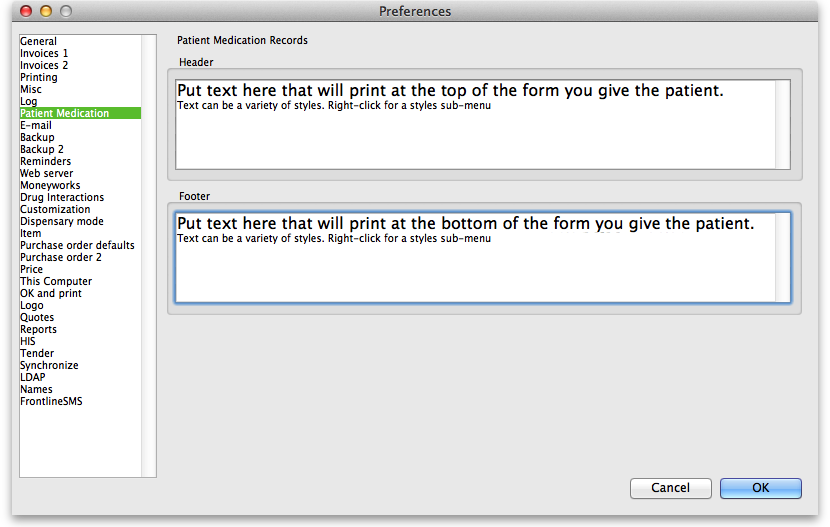 Note that you can style the text in these boxes by selecting text and right-clicking on your highlighted text to get a contextual menu to apply font styles, colour and size.
Printing a PMR
Simply click the Print button. Note that you do not have to highlight records- all records will be printed.
Currently we have included a single PMR printing form in mSupply. We are happy to include others- send us your designs.
Previous: Warnings Next: Why an HIS module for mSupply?
Prescribers
From the Special menu choose Prescribers
We were going to title this section "Managing Prescibers" but we all know that's not possible
When you are in dispensary mode, issuing items to a patient allows you to add a prescriber. This menu item allows you to set up your list of prescribers.
To add a new prescriber, click the "New" button.
Add a code for the presciber. You can use the code quickly to look upthe prescriber when dispensing.
Other fields are fairly self-explanatory. Note that the code, first name and last name can all be used for looking up prescribers when dispensing.
Initials
The text you put in the "Initials" field will print on dispensary labels.
Active status
If you have a prescriber that is no longer used, you can change their status to "inactive" and the prescriber will not show in the choice list when dispensing. Inactive prescribers will still show when you choose Special > Show Prescibers…
We suggest you might want to add a "Miscellanous Prescribers" item to the list, and use this if you have a lot of prescribers whose prescriptions you only dispense infrequently.
Category
This field can be used to group prescribers together, and can then be used to filter prescribers when producing a transaction report.
Merge prescribers
This item from the Special menu is used to merge two prescribers, where the same prescriber has inadvertently been entered twice. You are shown a window like this:
Enter the two prescriber names by entering the start of their surname or their code, and then pressing Tab . The top prescriber is the one who will be kept. The lower prescriber will be deleted.
Once you have entered the two names, check the details are correct, and then click OK. You will be warned one last time, and then the operation will be completed.
All transactions that recorded the deleted prescriber will now show the name of the prescriber that was kept.
Import prescribers
Label printing preferences
For setting up a label printer for the first time, see Label Printer Installation
Choosing this item from the Special menu shows the printing Preferences window.
Changing your default printer
The default printer is stored for each client computer - so each computer can be set to print to a different default printer. When you alter this setting, you are only altering it for the computer you are working at
To change the default printer, simply click the checkbox in the right-hand Default Printer column on the row of the printer you wish to use.
Adding a Printer
click the New Printer button
Editing a Printer
Double-click the printer in the list.
Settings for a particular printer
Description Here you give the printer a name

Connection type

If you are connection with a network cable (recommended) choose network

If you are connecting with a serial cable choose serial

If you are connecting with USB choose USB

Port number For network connections this will usually be 9100

IP Address- the address of the printer e.g. 10.1.1.253

Label dimensions Enter width, height and margins in m.m.

Make this printer default - Checking this box means that the computer you are using will always print to this printer.

Important: this setting is "per computer" - you need to set each computer to have a default printer.

Reset printer You can use this button to send a command to the printer to reset it. Occasionally a printer may misbehave if it's memory is corrupted by an electricity spike or the like, and this button may help. If your printer is not behaving we recommend you contact Sustainable Solutions rather than charging ahead on your own.
Setting up a USB printer
Once your chosen computer is set up and installed, go to Special > Printing Preferences > Add new to add a new printer.
Set up the window as follows:
Description: name of the printer, used by users to identify it
Connection Type: USB
Address: the Windows name of the printer. This can be found in Control Panel > Printers and Scanners. This must be accurate as it is used to identify your printer. The name is written in the Printer properties inside the general tab.
Three part label printing
Label Bottom Margin: margin between top label and lower labels
Bottom Left Label Width: width of bottom left label
Previous: Abbreviations Next: Warnings
Printer Setup for Remote Desktop Client
In low bandwidth situations the mSupply client can become laggy and unstable, in these cases it may be recommended to use RDP through the Windows Server Remote Desktop Client application. If the site is dispensing and using a printer, this introduces some complicated steps.
Requirements
At dispensary: - A computer with serial/com port and with RDP access to server - A Zebra printer with serial/com port
Server/machine that is remoted to: - mSupply Client installed and can connect to mSupply server - Windows server installed that has Remote Desktop Client
Setup the Remote Windows Server Machine
Use Windows Run to run tsconfig.msc and gpedit.msc.
- In the tsconfig window, right click on "RDP-Tcp" and click "properties". Go to client settings and make sure that the COM port is unchecked in "Redirection - disable the following" list.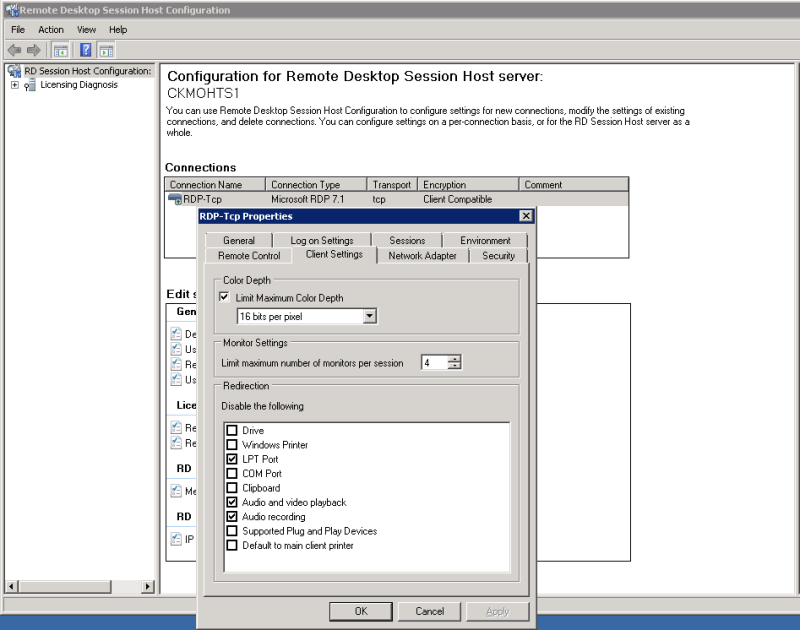 - In the gpedit window, follow the hierarchy shown below and make sure "Do not allow COM port redirection" is disabled (not configured probably fine).
Setup the Local Machine
- The machine that you will be dispensing from needs to have the appropriate Zebra printer. - Check that your printer has a 9 pin serial/com port on the rear - Check your Computer also has a 9 pin serial/com port (right most port below).
- You can verify that the computer has detected its external ports via device manager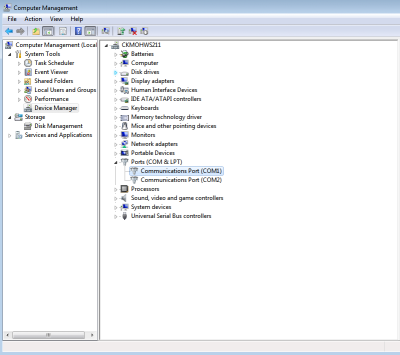 - Using a RS232 serial cable, plug the printer into the computer.
Caution: If you have a cable that has the female plug at both ends, it is likely a Null Modem cable. This cable will not work (even with adapter).
- If you have mSupply available locally on the machine, you can try testing printing a label to confirm your local setup is correct using misc. labels in the special menu.
Remote Desktop Connection Settings
You must enable port sharing on the remote machine (at dispensary) in Remote Desktop Client for the machine you are going to remote into.
Enter the connection details for the machine you are going to RDC into

Show connection options

Select "Local Resources" tab

In the section "Local devices and resources" click the "More…" button

Ensure that the "Ports" checkbox is ticked

OK!
Open mSupply Client in the rdc window and test printing, hopefully it works!
Warnings
From the Special menu this command allows you to view and edit the standard list of warnings.
Once this list is created, you can apply one or more warnings to each item, and choose which warning will be automatically printed on labels.
To apply a warning to an item, see Adding a New item
Double-click a warning in the list to edit its details.
Click the "New" button to add a new warning.
We suggest you use the standard set of warnings as specified by the pharmaceutical authorities in your country.
Previous: Printing Preferences Next: Patient Medication Records